On 3 June 2017, Kirsten Han announced that her fellow activist Jolovan Wham had organised a protest in a Singapore Mass Rapid Transit train.
Han reposted on her Facebook a series of photographs from Wham's personal page
, showing Wham and eight others sitting blindfolded in a train carriage, holding up the recently published
1987: Singapore's Marxist Conspiracy 30 Years On
, with homemade posters stuck on the walls behind them. While Wham was tagged by Han, his collaborators and co-conspirators are instantly recognisable as activists of a certain bent in Singapore. Everyone knows who they are, but their names will not be mentioned here.
On the morning of 3 June 2017 while Kirsten Han was likely involved in the coordination of the dissemination of the news of the protest, if not the protest itself, I was attending in my personal capacity, as I note were some other members of the
Community Action Network
, the
Singapore Heritage Society 30th anniversary lecture by Prof Kwok Kian-woon
at the Singapore Management University.
I had no prior knowledge of the protest. I was not involved in its conception, deliberation, or execution. I was not invited to be part of it. If invited, I would have told them it was a stupid idea that would get them thrown in jail, whether they did it in Singapore, New York, or London.
Has no one in the world held a protest inside a train?
If I had known about their plans, I would have dissuaded Jolovan Wham, taking the chance that Wham and his compatriots and collaborators would listen to my reasonable, reality-based analysis.
I would have pointed them to Google and Instagram to show that no one in the world has apparently held a protest inside a train, not even a silent sit-in protest like they were considering. I would have pointed to Google and Instagram to show that where protests have been organised, they have never taken place within a train carriage or very rarely, within station premises. The only instance I could find was in San Francisco, where the
Bay Area Rapid Transit took extreme measures and brought out the riot squad
to deal with radical protesters who staged a demonstration at the platforms of 4 stations.
I would have pointed to Google and Instagram again, to show that where people have taken selfies of themselves with political banners inside a train, it was because they were on the way to a protest venue and simply were using the subway.
Like these people right here
.
Yes, there are people who get talky and enthusiastic on the way to a protest venue or remain angry on the way home from a protest and continue to chant and sing, but no there are no people who actually hold a protest in a train.
It's actually stupidly dangerous to hold a protest in a train
Trump protesters may carry placards onto the train and take selfies signalling the virtue of their indignation, but everyone knows that protests don't happen in a train because it's a metal can with lots of squishy human bodies hurtling at high speeds in a narrow tunnel. New Yorkers are as opinionated as there are shades of political stands to take, but even they understand y
ou don't want a protest to cause a counter-protest and a riot on a speeding train
.
And actually prohibited in every transport regime
A brash New Yorker would've pointed Wham to Google up the
New York transport authority by-laws
, which govern both rail and bus travel. In particular, the section on disorderly conduct that caters specifically to would-be protesters and rioters: "No person on or in any facility or conveyance shall) conduct himself or herself in any manner which may cause or tend to cause annoyance, alarm or inconvenience to a reasonable person or create a breach of the peace".
Transport authority by-laws in London
contain similar Public Order provisions but also prohibit unauthorised installation and carrying of political posters and banners, sometimes classifying it as vandalism, sometimes as material likely to cause annoyance to people in the carriage. It's the same provisos with Australia's
Public Transport Authority
.
But let's be more concrete. If Jolovan Wham's protest were to be held in freewheeling and politically fractious Hong Kong, his entourage would have been
in breach of several MTR by-laws
, such as:
Section 32. No person shall, unless authorized in writing by the Corporation-
(a) post, stick, paint or write or cause to be posted, stuck, painted or written any placard, bill, advertisement or any other matter [Yup, that includes printing out posters and sticking them on the walls and windows of the train carriage]
Section 25. No person shall conduct himself on any train or in any part of the railway premises so as to cause a nuisance or annoyance to other passengers. [i.e. the standard Public Order provision, to be used against protesting in a train]
Section 28G. No person whose dress or clothing is in a condition liable to soil or injure the dress or clothing or personal effects of any other person in or upon a railway premises shall enter or attempt to enter a train or a railway premises unless an official in his absolute discretion grants permission to such a person. [Of course blindfolding yourself in a train is likely to pose a danger to yourself and other passengers]
Plausible deniability?
Supporters of Wham and his collaborators had embarked months ago on a mythologising mission to turn him into a groundbreaking activist whose creativity knows no bounds. The argument goes: Where else in the world could anyone think of protesting by blindfolding themselves and reading a book?
Let's start with the anti-Trump movement and PETA, both groups whose tactics Mr Wham may be well aware of.
There is nothing creative about wearing a blindfold as a form of protest
. It is depressingly common and unimaginatively figurative.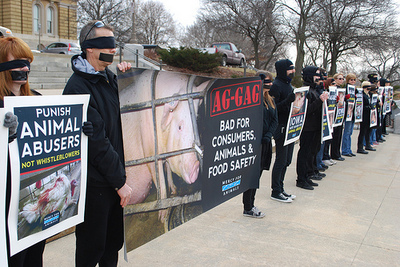 Blindfolded and gagged next to political posters
But let us assume that Wham and his friends are the smartest activists we can find in Singapore. Let's assume this was plausible deniability at work: You may say I broke the law in protesting in a train, but what I did doesn't look like a protest unless you Googled similar photos.
You may infer that was a protest, but I'm saying it's just me blindfolding myself while I read a book
. In what permutation of this imaginary reality would Wham's friends start posting visual evidence on Facebook admitting that he had indeed carried out a protest?
These are considerations that Jolovan and his collaborators could have pondered on before they went ahead with their train protest: Why are there basic, near universal regulations against protesting in trains? Why haven't fiercer, more radical and courageous activists in the West violated these regulations? Can a cause be served by breaking the law unnecessarily?
In his eagerness to show solidarity, Wham has done something that the innocent victims of Operation Coldstore never did: willfully and clumsily broken the law. That would be a self-defeating exercise in reminding the public of the unfinished business of 1987 and the need for the state to embark on a course to open its records on this affair.